Global Hot Spot: The Taurus New Moon on May 19, 2023
Updated: Jun 20
Malcolm X was born on May 19, 1925 in Omaha, Nebraska and was assassinated while giving a speech in Manhattan during the afternoon of February 21, 1965. I wrote a published article on Malcolm X after reading The Autobiography of Malcolm X that changed my life just before my 19th birthday when I worked as a columnist for the Michigan State News while attending that university in 1969. And you can listen to the audio version of my reading that article in Podcast #52 in the AstroScope section on our Great Bear Enterprises website. Plus, his birth chart is included in the folder for that podcast. New research shows Malcolm X's exact birth time is 10:29pm – 4 minutes later than what researchers previously thought.
Dateline May 18, 2023: For those of you who are now enjoying the Astrology Cosmic Kalendar App one day at a time – but who have not yet subscribed to be able to look several weeks into the future – here are the calendar entries for the very potent Taurus New Moon on Friday May 19 and the day following Saturday May 20. Because every day – beyond the current 24 hours that we define as one rotation of our celestial orb on its axis – has astro-zodiacal magic, mystery and wonder is why thousands of people around the world have been tuning into the Astrological Cosmic Kalendar for the last 42 years and since it was at the heart-center of our Welcome to Planet Earth pioneering astrology newspaper/magazine during the 1980s and 1990s.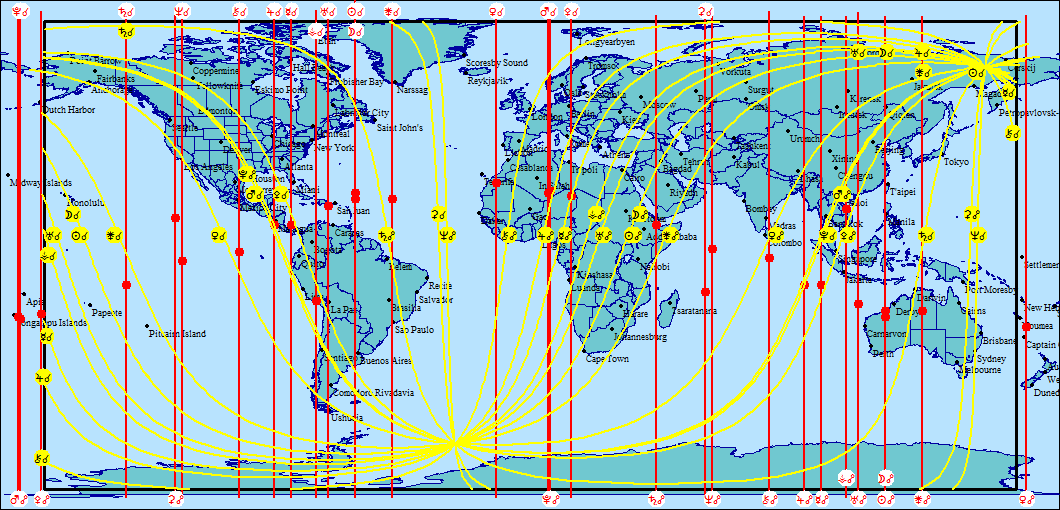 The main reasons this New Moon — energizing 29 degrees of Taurus— are extra significant is due to this solar-lunar union being in sync with the stars of the Pleiades "Seven Sisters" constellation and that the annual Sun-Sedna conjunction happens precisely on the day after the New Moon.
Plus, the asteroid Juno at 10+ degrees of Gemini is in the Nuclear Axis – an area of the zodiac between approximately 7 & 11 degrees of Gemini and Sagittarius that I discovered back in 1982 and which is related strongly with atomic and nuclear energy, technology, warfare, testing and treaties. To read about my research, please click here.
For much more on the opportunities and challenges associated with New and Full Moons and Eclipses, please listen to the most recent podcasts in the Mark Lerner Astrology Radio AstroScope section on our website.
You can read more about this New Moon in the two calendar entries below. Please consider the merits of subscribing to the Astrology Cosmic Kalendar App to strengthen your already developing skills as a seer who can tune into the future ahead of time.
Cosmic Kalendar Entries for Friday May 19 and Saturday May 20 (All times are listed in PDT.)
Friday May 19 As indicated in yesterday's calendar entry, the solar and lunar orbs merge at 8:54am — ending the overnight dark-of-the-moon phase and creating a 29.5-day New Moon cycle energizing 29 degrees of Taurus. Seven hours earlier, the Moon trines Ceres in Virgo at 1:24am and functioning as a reminder to nurture children and elders in your family circle. Your favorite sports and exercise routines are reinforced during a supportive, 60-degree rapport between the Moon and Mars in Cancer (10:52am). This Moon-Mars link begins a short void lunar cycle that ends at 11:49am when the Moon takes flight in airy Gemini. Delve into important research projects as the Moon trines Pluto in Aquarius (12:21pm). Get ready for the red planet Mars to leave water-endowed Cancer to explore the fixed-fire terrain known as Leo the Lion starting at 8:33am on Saturday. Reading, writing and all varieties of communication are promoted with the Moon transiting the third sign of the zodiac. From the realm of newly-discovered planets in our solar system beyond Pluto, note that the Sun is nearing its annual conjunction with Sedna which will become exact tomorrow. [Note to readers: All times are calculated for Pacific Daylight Time. Be sure to adjust all times according to your own local time so the alignments noted above will be exact for your location.]
Saturday May 20 Friday's Taurus New Moon is definitely providing all earthlings with a great leap forward during the next several weeks. Keep in mind that the near-conjunction on Friday of the Sun and far-distant Sedna now becomes exact during the afternoon and evening hours at the 30th degree of Taurus. Sedna — with its 11,400-year orbit — was only discovered in November 2003 and connects with Persephone type death-rebirth and transformational principles that link with the depths of consciousness, particularly in sync with the oceans and marine life. Beyond the annual Sun-Sedna merger, the Moon makes its monthly union with peace-and-harmony advocate Juno in Gemini (8:03am) while Mars enters the sign of the lion (8:33am) in a cycle that lasts until July 10. Enjoy a Moon-Venus parallel (10:39am) that can strengthen love vibrations and your creative artistry. Later on do your best to steer clear of relationship snafus and upsets since Mars makes a very rare polarity to Pluto in Aquarius (8:13pm). Projecting anger on to well-meaning dear ones is taboo. Prepare for the Sun's shift from Taurus to Gemini tomorrow at 12:10am. [Note to readers: All times are calculated for Pacific Daylight Time. Be sure to adjust all times according to your own local time so the alignments noted above will be exact for your location.]
Sedna
To learn more about many archetypes associated with the Sun, the Moon, the eight planets Mercury through Pluto, Pallas Athena, Ceres, Juno, Vesta and Chiron – please visit the complimentary Astro-Business Keys section on our website.
And if you want to order a great report on the 4 main asteroids as well as Chiron in your birth chart — along with their meanings and mythological connections, zodiacal sign and house placements, and aspects to other celestial bodies when you were born — please click on our Special Offers Tab on the same website to order our 3-in-1 Special Astro Reports discounted at $89.99 that includes the Four Asteroids & Chiron Report, the Just for Women Report and a 1-year Sky Log Report on your major Transits and Progressions. Plus, we have two other 3-in-1 Special Reports combinations – Energize Your Life and Get into Your Progressions, and each of these packages is discounted to $89.99 as well. And now as well, we have a new report section entitled AstroWOW for you to visit to order four terrific reports!
You can view a sample of the Four Asteroids & Chiron Report for Margaret Thatcher to see the type of interpretations in this kind of computerized report which, if you order it as part of our 3-in-1 Special, will be based completely on your birth data. Sample Reports of well-known people around the world – for all our reports available for purchase in the Astrology Shop – are located in the Astrology Reports section.
Copyright 2023 by Mark Lerner and Great Bear Enterprises, Ltd. All rights reserved.